Clean & Safe
#STAYSAFESTAYWITHUS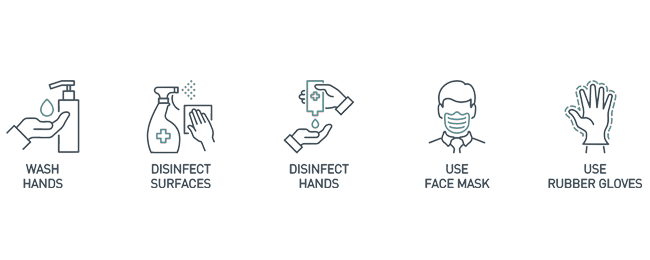 ---
STAY HOTELS has defined a set of practices to be implemented due to the COVID-19 pandemic situation, in order to prevent the disease from spreading and to create clean and safe spaces. The objective is to address the recommendations made by official entities, such as the Directorate-General for Health and the World Health Organization, thus allowing a healthy interaction between employees and guests in our hotels. All STAY HOTELS exhibit the "Clean & Safe" seal awarded by Turismo de Portugal and the European Tourism Covid-19 Security Seal, created by the European Committee for Standardization (CEN) in partnership with the European Commission.
---
Our Team

All Employees have received specific information / training on:
• Internal protocol concerning the COVID-19 outbreak;
• How to comply with the basic precautions for the prevention and control of the infection related to the COVID-19 outbreak, including the procedures:
- hand hygiene: wash hands frequently with soap and water for at least 20 seconds or use a hand sanitizer that contains at least 70% alcohol, by covering all surfaces of both hands and rubbing them until they are dry. Hands must also be rubbed with a water-alcohol solution after each telephone call / manual contact, and at least every 30 minutes.
- respiratory etiquette: cough or sneeze into the bend of arm or use a tissue, and throw it immediately into a trash can; always disinfect hands after coughing or sneezing and after nose blowing; avoid touching eyes, nose and mouth with hands.
- social conduct: change the frequency and the form of contact between employees and between these and clients, and avoid (whenever possible) any close contact, handshakes, kisses, shared workstations, in-person meetings and sharing of food, utensils, glasses and tablecloths.
• How to comply with daily self-monitoring to assess fever (to measure body temperature and to record the measurement value and time), check for cough or shortness of breath;
• How to comply with the guidelines from the Directorate-General for Health regarding surface cleaning and laundry care in the premises;
• Correct use of the mask during the entire work period, by respecting the hygiene and safety conditions while putting it on, using it and taking it off.
---
Cleaning and Disinfection
All hotels must ensure:
• Washing and disinfection, in accordance with the internal protocol, of the surfaces where employees and clients move around, in order to control and prevent the infection;
• Cleaning, several times a day, of surfaces and objects of common use (including counters, light and lift switches, doorknobs, handles);
• Preference is given to wet cleaning over dry cleaning and the use of a vacuum cleaner;
• Regular air renewal of rooms and enclosed spaces. We also encourage all guests to promote adequate natural ventilation in their rooms, by opening the windows or balcony, whenever possible;
• In the areas of restaurants and beverages, the cleaning of utensils, equipment and surfaces is reinforced, and the direct handling of food by clients and employees is avoided as much as possible;
• The replacement of hotel communication elements in physical format by digital format to reduce contact surfaces, namely in bedrooms and the bar.
---
The cleaning and sanitation protocol ensures:
• Definition of specific care when exchanging bed linen and cleaning the rooms, by favouring two spaced intervention times and with the adequate protection, according to the internal protocol;
• Removal of bed linen and towels without stirring or shaking them, and by rolling them from the inside out, without touching the body;
• Separate washing of employees' uniforms and bed linen / towels in the washing machine at high temperatures (around 60ºC).
---
Social distancing
• Placement of physical barriers (acrylic) at the reception desk;
• Buffet Breakfast is served in the dining room. The use of a mask is mandatory during access, circulation or stay in the room, with the exception of consumption periods. It is possible to request breakfast in room service, in a box, with an additional fee;
• Maximum lift capacity limited to 2 people.
---
Handling of Suspicious Cases
The operation ensures that:
• An employee in charge of triggering the procedures, in case of a suspected infection, is always present (must accompany the person with symptoms to the isolation space, provide him / her with the necessary assistance and contact the national health service);
• Decontamination must be carried out in the isolation area, whenever there are positive cases of infection, and cleaning and disinfection must be reinforced whenever there are patients suspected of being infected, especially surfaces frequently touched and used by those patients, according to instructions from DGS;
• Waste produced by patients suspected of infection must be stored in a plastic bag which, after being closed, is separated and sent to a licensed operator for the management of biologically hazardous hospital waste.
---
The European Union, and all of its member states, are planning for a safe re-opening of Europe. For this reason, they have prepared an interactive tool that provides you with the information that you need to confidently plan your Portuguese (and European) travel and holidays, while staying healthy and safe. The information is frequently updated and available in 24 languages: https://reopen.europa.eu/en/map/PRT
The Portugal Health Passport platform, developed by Health Cluster Portugal with Turismo de Portugal, ensures that tourists visiting Portugal have the possibility of taking the Covid-19 test, as well as access to healthcare: https://www.portugalhealthpassport.com/
---
---
---
If you have any doubts concerning the hygiene and safety measures adopted by STAY HOTELS, please get in touch with our Quality and Environment Department: